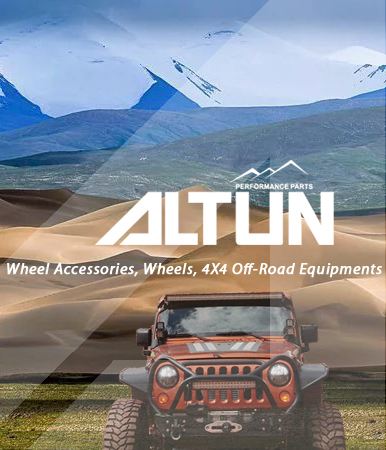 The founder of Soong Auto Parts has been immersed in the wheel accessories from 2001. With 20 years automotive accessories manufacturer and global exporter experience. In 2021 we began a new brand ALTUN Performance Parts.

"ALTUN" is inspired by the ALTUN Mountain, one of the four depopulated areas in China, there are blue sky and white clouds, towering stone peaks, ten thousand years of glaciers and quiet lakes, as well as Tibetan antelope, wild yaks, Tibetan wild donkeys and camels living freely in Deserts, Gobi and Basins. It is the dream paradise for outdoor car lovers to pursue. We adhere to the ideal, are not afraid of hardships, dare to go beyond, and advocate nature.

With continued opportunities arising, we still bring you the highest quality merchandise at an competitive prices which including wheel accessories, wheels, 4x4 off-road gear and recovery equipment, off-road outdoor production.

Business is global and service is personal, under our strong R&D and OEM ability, Quality control system. Be sure we can precision lead you to greater loyalty and fully satisfaction.